Valley Players on All-Academic All-District Teams
(St. Louis, MO) – A pair of Belmont student-athletes and Drake's Kale Abrahamson have been named to the CoSIDA Academic All-District ® men's basketball teams. Joining them at the Division 2 level are Great Lakes Valley players Wisconsin-Parkside's Andy Mazurczak and Max Strus from Lewis. The Belmont selections were senior Craig Bradshaw and junior Evan Bradds.
The quartet will now have their names appear on the national ballot for consideration for Academic All-American. The 2016 Academic All-America men's basketballl team will be announced on Thursday, March 3.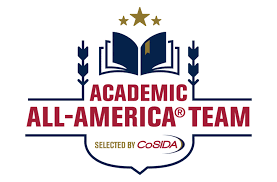 To be eligible for nomination, a student-athlete must have reached sophomore academic standing and have at least a 3.30 cumulative grade point average.
Bradshaw who currently has a 3.47 GPA in public relations currently ranks fourth on the Bruins' NCAA Division I era scoring list with 1,581 points. He has led Belmont to 91 victories in three-plus seasons, including two NCAA Tournament appearances, one Postseason NIT Elite Eight run, two OVC tournament championships, two OVC regular season championships, and tournament titles in the Naismith Hall of Fame Tip-Off and Legends Classic. The Ridgetop, Tennessee native was a 2014-15 CoSIDA Academic All-District and Academic All-America selection, as well as the 2014-15 Division I-AAA Athletics Directors Association (DI-AAA ADA) Men's Basketball Scholar-Athlete of the Year.
Bradds, who has a 3.53 GPA in finance, is a three-time OVC Player of the Week honoree this season and leads the nation in field goal percentage (.715) after doing so a year ago. In fact, the Jamestown, Ohio native currently ranks as the NCAA Division I career field goal percentage leader. The fifth-fastest to 1,000 career points in Belmont's NCAA Division I era, Bradds 19 double doubles and ranks fourth in the OVC in scoring (17.6) and second in rebounding (9.8).
Bradshaw and Bradds become the 18th and 19th Belmont men's basketball student-athletes named Academic All-District. Belmont was one of four NCAA Division I men's basketball programs to have multiple honorees (College of Charleston, New Mexico, North Dakota State).
Abrahamson carries a 3.91 GPA and is working on his MBA and is the second leading scorer (11.8 ppg) for the Bulldogs. Strus leads the Flyers with a 21.2 scoring average and a 3.39 GPA in Business Administration. Mazurczak is the leading scorer for the Rangers at 17.8 points per game and has earned a 3.36 in Sports Management.
Do Good
Editor: Most of this article was reproduced from both ovcsports.com and the CoSIDA press release.