Editor: The following is part of a press release from goredbirds.com.
Normal, IL – Illinois State Director of Athletics Larry Lyons announced Tuesday that head men's basketball coach Dan Muller has signed a contract extension. The new agreement extends Muller's current contract seven years, keeping the 2017 Missouri Valley Conference Coach of the Year at the helm of the program through at least the 2023-24 season.
Muller's salary will increase from $464,224 to a total compensation package of $550,000 for the 2017-18 season. His compensation package will include a base salary of $514,000 plus $36,000 of deferred compensation. In 2018-19, Muller's annual base salary will increase to $564,000, plus $36,000 of deferred compensation, for a total annual compensation package of $600,000.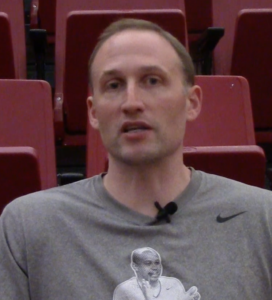 "This contract extension reflects the strength of our men's basketball program under Dan's leadership and our mutual desire for long-term stability," Lyons said. "We were able to incorporate available deferred compensation plans along his base salary to build a competitive overall compensation package in our marketplace. It certainly helps that we have been able to generate new external dollars from initiatives such as Redbird Sports Properties to help fund budget increases such as this."
In 2016-17, Muller led Illinois State to a share of the Missouri Valley Conference regular-season title, which was the program's first since he helped ISU win the MVC championship as a player in 1998. During the 2016-17 season, Muller guided the Redbirds to program bests in MVC wins – 17-1, en route to the Valley title – regular-season victories (25) and overall triumphs (28).
"I have always felt incredibly blessed and honored to have the responsibility of holding the title of head coach here at my alma mater, and I am humbled by the support shown by President Larry Dietz and Larry Lyons," Muller said. "I am excited to be a part of what I believe is a special time with Redbird basketball, and I look forward to continuing to work with my staff and my players to help represent Illinois State the right way, earn degrees and win championships."
Through his first five seasons at Illinois State, Muller amassed a 104-65 record and coached the Redbirds to four victories over Top-25 programs, three postseason appearances (2017 National Invitation Tournament, 2015 NIT and 2014 College Basketball Invitational) and four postseason wins. His four Top-25 victories are tied for the most ever recorded by a Redbird head coach.
During Muller's tenure, 18 of 19 men's basketball academic seniors have earned undergraduate degrees. Of those student-athletes, the only one who has not yet graduated – Justin McCloud – is on track to do so upon conclusion of the fall of 2017 semester, which will increase the total to a perfect 19 of 19.