Coaches Versus Cancer Basketball Tournament
(St. Louis, MO) – A St. Louis tradition, the high school basketball tournament at Meramec Community College has had several names, but two years ago it grabbed the correct moniker. It is now the 'Coaches v Cancer STL Holiday Tournament'.
For four days (December 27-30) some of the finest high school basketball teams in the St. Louis area will compete for the tournament title, but equally important they will be helping raise money for cancer research.
Valley Hoops Insider and Arch-Rivals Enterprises are working together to bring every evening game of the tournament to you, wherever you may be. The games will be broadcast live on both the prepsportsshowcase.com and valleyhoopsinsider.com websites.
The field for this year's tournament is outstanding. Tournament organizers tell us nine of the 16 teams in the field won district or conference championships last season.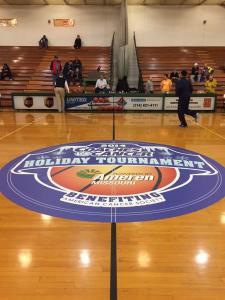 That is impressive on its own merit, but when you add this list of coaching icons like Jay Blossom, Kelvin Lee, Erwin Claggett, Bill Gunn, Josh Martin, Justin Tatum, Kevin Walsh and others to that conversation, you know you have an amazing tournament in store.
The two sites are making no money off these broadcasts, all advertising profits will be passed along to tournament organizers, to add to their fund-raising efforts on behalf of cancer research. Arch-Rivals will be donating the money to CVCSTL in the name of Rhyan Loos, the daughter of Missouri assistant basketball coach Brad Loos, who is fighting her own battle with cancer. You can search Facebook for RallyForRhyan to learn more about the Loos family's journey.
The evening games are at 6:30 and 8:00 pm each night, until the final day of the tournament, when the times change to 6:00 and 8:00 pm.
Advertisers are welcome to jump on board, by contacting Arch-Rivals Enterprises at the Prep Sports Showcase website!
Do Good