MVC Power Shift to Illinois
(St. Louis, MO) – There is a massive power shift going on in the Missouri Valley Conference. After two decades of the league's power base residing in Nebraska (Creighton), Kansas (Wichita State) or Iowa (Northern Iowa), the State of Illinois has become the center of the MVC universe.
The Valley's four Illinois-based teams find themselves occupying all the top spots in the MVC standings. First place Loyola (19-5, 9-3) picked third in the league's pre-season poll leads second place, and injury-riddled Southern Illinois (16-9, 8-4), who was picked fifth.
There is a three-way tie for third place as Bradley (17-8) and Illinois State (13-11) are knotted up with Iowa-based Drake (13-12) at 7-5.
How did the balance of power move to the 'Land of Lincoln'?
Coaches Building Programs
As Creighton was playing its final season in the Valley, Dan Muller and Barry Hinson were coaching their first seasons at Illinois State and Southern Illinois respectively. The following season Loyola and head coach Porter Moser joined the league. Bradley's Brian Wardle is coaching in his third season in Peoria.
Wardle built his team with freshmen and creating a culture at Bradley. The Braves have increased their win total every season, from five to 13 to this year's 17 and counting. Muller produced five straight seasons of 18 or more wins, including last year's co-championship.
It took a couple of seasons for Hinson to get his program heading in the right direction, but after seasons of 14, 14 and 12 wins, the Salukis tallied 39 victories over the past two seasons and the Egyptian Dawgs have tallied 16 this year, with six conference games and Arch Madness left to play.
Loyola's Moser has been working to create a 'Chicago Identity' by recruiting Chicago players to his down town campus. The Ramblers' first season in the Valley resulted in a last place finish and have never achieved a winning conference record, but Moser has patiently built a roster that could compete in Valley play.
Wardle's freshmen have turned into productive and winning juniors. While Moser has an impressive freshmen class the heart-soul of this year's league leading squad is junior/senior dominated.
Hinson's Salukis have learned to play 'Barry Ball' which includes tough defense and responsible offensive possessions. Even during an up down season for Muller's Redbirds, they are in the thick of the conference race and have posted non-conference victories over South Carolina and Mississippi.
What you see in each of these programs, is the stacking of recruiting classes, seasoned with transfers where needed, and coaches that are taking the assertive leadership role. Make no mistake, when you think of each of these programs you think of the coach and their way of doing things, more than any of the individual players.
Unlike the NBA, that is a star driven league, the college game is all about the coaches. We know Duke will be great because of 'Coach K'. You expect Michigan State to be a tough-minded, glass-crashing team because you know about Tom Izzo.
It's no different in the Missouri Valley Conference. The league has always been known as a 'coaches league' and this year and this shifting power base points that out.
This in no way demeans, the coaches in Indiana, Missouri or Iowa. The coaches at Valparaiso, Evansville, Indiana State, Missouri State, Drake and Northern Iowa have all accomplished impressive things, but what is clear is that the energy in the league is found in Illinois.
That may bode well for attendance at Arch Madness 2018. Other than Missouri State, those Illinois schools reside closest to downtown St. Louis. A growing rivalry between Loyola and Illinois State could spice things up. The revival of the 'War on 74' (Bradley and ILS) is also a juicy additive.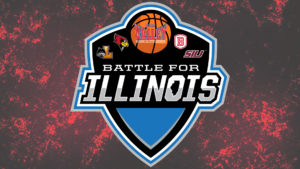 This year's 'Battle for Illinois' (which also involves the women's programs) has also added interest in the connection of the four Illinois-based teams.
The balance of power has shifted. How will other programs adjust and compete? Their solid coaching staffs and programs will respond. I believe we are in for a great era of Missouri Valley Conference basketball.
Do Good