MVC – Fighting For Relevance
(St. Louis, MO) – When you lose two top 25 teams in four years, your national image takes a hit. Now the Missouri Valley Conference has the task of rebuilding the brand, growing its programs and becoming a significant part of the college basketball conversation once again.
Make no mistake, the nation's second oldest basketball conference is respected, and respectable, but the logo has taken a few hits over the past half decade. Even while major conference programs are facing scandal, indictments and firings, the Valley is faced with huge issues.
Can the Valley be a 'Multi-Bid League' Again?
Much has been said about this question and the typical answer revolves around scheduling, and I believe that is true, to a certain point. There is no doubt that getting the right kind of games on your schedule is critical to building a post season resume, but Valley teams have to win games against quality opponents and that comes down to recruiting.
Recruiting talented players, training and retaining them is the key to everything. As Southern Illinois' Barry Hinson told me recently, successful teams in the Valley have always relied on fourth and fifth year seniors. When you recruit, sign and train guys like Reggie Lynch (Minnnesota), MiKyle McIntosh (Oregon) and Deontae Hawkins (Boston College) and they play their senior years somewhere else, as is happening this year to Illinois State, chances for success are greatly diminished.
What about scheduling? Valley coaches tell me this is the hardest part of their jobs. However, they simply must become crusaders on this subject. If we ignore games beyond the first rounds of their MTE's, MVC teams are playing a grand total of 26 games against Top 100 teams (Kenpom.com), with Illinois State (5), Northern Iowa (4) and Drake (4) playing half of those games. Missouri State doesn't have one game on its non-conference schedule against a preseason Top 100 team. While I believe the Bears' schedule will actually shake out better than it looks right now, league coaches and administrators have to learn how to crack the scheduling code and do a better job of landing games with high level competition.
The Valley has sent multiple teams to the 'Big Dance' for of the past six seasons, but of the teams playing in the NCAA Tournament, only Northern Iowa remains in the league. Wichita State participated in each of the six post season tournaments. Creighton played in the last two of their MVC existence and the Panthers participated in March Madness twice.
Our friend Mark Adams has advocated that top midmajor programs should collude and prioritize their schedule around playing one another. That strategy that has some very real merit. However, there are a grand total of ten teams in the Mountain West and A-Ten (the two conferences immediately ahead of the Valley in the KenPom ratings) that are in the preseason Top 100 and the Valley already plays the five teams from the Mountain West in their annual cross conference challenge.
Can the MVC Hold On to Ascending Coaches?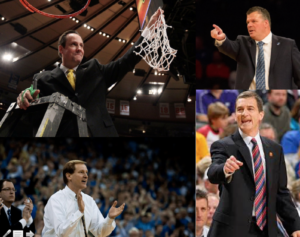 When you see Mark Turgeon, Tim Jankovich, Dana Altman, Gregg Marshall, Greg McDermott, Cuonzo Martin, Bruce Weber, Matt Painter and Steve Alford coaching in programs from more highly rated conferences, and you hear rumblings that programs are circling like sharks around Dan Muller and Porter Moser, you wonder out loud, "how do we hold on to good coaches?" The obvious answers come down to money, facilities and being able to get into postseason tournaments.
Which brings us back to the first question.
It appears that the league's best coach, Ben Jacobson isn't going anywhere. Starting his twelfth season in Cedar Falls, he could have left several times before and has stayed put. But what about ascending coaches like Muller, Moser and younger guys with large school roots like Valparaiso's Matt Lottich, Bradley's Brian Wardle or Drake's Niko Medved?
If the NCAA could correct the transfer rules, I believe retaining these coaches could be more likely. The seemingly endless loss of talented players to more high profile programs wears on coaches, makes it more difficult to get into the NCAA Tournament and thus nudges coaches out the door to the next opportunity.
Can Arch Madness Reclaim Its Former Glory? 
It's a long time since 2007. Arch Madness 2007 drew 22,612 to the championship game between Creighton and Southern Illinois and over 85,000 to the entire tournament. That high-water mark has never again been flirted with. In 2013 71,029 attended with 16,659 coming to the championship game between Creighton and Wichita State.
No tournament since 2014 is in the Valley's top 10 of all-time attendance. Wichita State and Creighton fans traveled well to St. Louis, but they are gone.
How does this gem of a tournament and my personal 'favorite place to be in March' regain its regional interest and national attention? See Question One. The teams simply must play better competition and win some of those games. For the region to be passionate and the nation to take notice, Valley teams must shock some 'power 5' teams with some regularity.
Individual programs have to pick up the mantle and become the standard bearers for the Valley. Two or three teams have to become perennial 20-25 game winners with one or two 'power 5' wins in their resume. Then the pundits and pollsters will pay attention and the fans will come to Scottrade Center.
It starts this year. In the new era of Missouri Valley Conference play, post Wichita State, some teams need to arrive. Northern Iowa with a difficult schedule, but a veteran team needs to knock some big name teams off. North Carolina on opening night would be a good start. A depleted Illinois State team has five opportunities to improve their national reputation, but I'm afraid injuries and defections have left them vulnerable.
As Valparaiso has stepped up into the Valley, their winning reputation precedes them. If they can continue to be a 20+ win team and be near the top of the Valley race they help the league stand taller.