(St. Louis, MO) – Jayson Tatum goes Number 3 in more ways than one! The Chaminade Prep graduate and one-and-done Duke Blue Devil was made the third selection in Thursday's NBA draft. When the Boston Celtics made that choice, Tatum followed David Lee and Bradley Beal as the third Chaminade Red Devil to be a first round selection in the last 13 years.
Like Tatum, Beal was drafted third in the 2012 draft (Washington Wizards). Lee was tapped with the 30th pick by the New York Knicks. All three players have worked with St. Louis based NBA personal skills trainer Drew Hanlen. A college player himself (Belmont University), Hanlen trains some of the best NBA and college players in the country.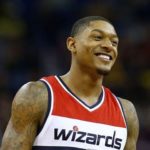 The west St. Louis County Catholic school has produced numerous outstanding athletes beyond the three currently in the NBA. There are three former Red Devils playing in the National Hockey League.
Tatum, rated by many experts as the most 'NBA Ready' of this year's draft class, was the 'Gatorade Player of the Year' his senior season at Chaminade. Beal received the award in 2011. Both Beal and Lee attended the University of Florida.
Lee (now with the San Antonio Spurs) has won an NBA title (2015 with Golden State), is a two-time NBA all-star and has averaged over 13 points and eight rebounds per game during his 13 year career. Beal just finished his fifth season with the Wizards setting career highs scoring (23.1 points per game) and assists (3.5 helpers) while nearly doubling his best season of made three pointers. Beal connected 223 three-point attempts compared to his previous high of 138 during the 2013-14 season.
Tatum goes to Beal's Eastern Conference foe in the Celtics. Boston, the top seeded team in the East this past season, eliminated Beal's Wizards in the Conference Semifinals. To which Beal tweeted the following.
Congrats to my bro @jaytatum0 ! But I will say this Jay, it's nothing personal, I just can't like you now lol #bOb

— Bradley Beal (@RealDealBeal23) June 23, 2017
Three Red Devils with similar paths and making St. Louis proud.
Do Good