Balentine & Taylor Still Leading the Way
(St. Louis, MO) – When you are the active career scoring leader in your conference you should get noticed once in awhile, and that's what happened this week in the Missouri Valley and Ohio Valley Conferences weekly awards.
Missouri Valley Conference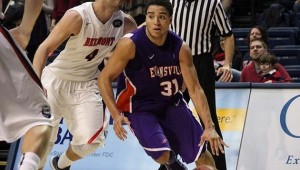 D. J. Balentine has scored over 2,300 points during his four year career at Evansville. This week he will move into fourth place on the league's all-time scoring list behind legendary Valley performers Hersey Hawkins of Bradley, Cincinnati's Oscar Robertson and Indiana State's Larry Bird. Only those three icons of MVC history will have scored more points than D.J. Balentine. He has had an amazing career.
Last week he scored 53 points in two games and led the Purple Aces to a pair of wins and into a tie for second place. For his efforts, Balentine was given his second 'Player of the Week' award of the season.
Three different Bradley Braves have now won the 'Newcomer of the Week' honor. This time it was Antoine Pittman who scored a career high 20 points in the Braves' win over Drake. The 6'1 freshman from Rockford, Illinois is one of four Bradley freshman averaging over eight points per game.
Ohio Valley Conference
Myles Taylor has scored almost 1,700 points at UT-Martin and is the active career scoring leader in the OVC. He scored 45 points last week for the Skyhawks, who are the hottest team in the league with seven straight wins. The 6'7 senior made 13 of 14 free throws in an overtime win against Eastern Illinois and is this week's 'Player of the Week.'
Eastern Illinois teammates laid hold of this week's other OVC awards. Demetrius McReynolds was the 'Newcomer of the Week' and Casey Teson picked up the 'Freshman of the Week' nod. Their outstanding play allowed the Panthers to lock up a 'Music City Madness' bid for the fourth straight year. The weekly award was the first for McReynolds and the second for Teson.
Great Lakes Valley
Scoring a career high 27 points and sparking your team to a pair of victories will get you noticed and that's what happened for Lewis University's Delaney Blaylock. He was named the GLVC's 'Player of the Week.' The freshman guard made 58% of his shots from long distance and 91% of his free throws as the Flyers reached the 20-win plateau for the third straight season.
Do Good