A Championship For Rhyan (and Dave's Birthday Too)
(St. Louis, MO) – They only write these scripts in Hollywood and in college basketball. Saturday night a veteran coach with a middle of the road team, and a granddaughter fighting for her life, wins the conference tournament with his best player hurting and little used players coming up big.
Yep, Hollywood and college basketball.
Austin Peay completed the most unusual of runs in Ohio Valley Conference basketball history. The Governors barely squeaked into the conference tournament, and made it as the eighth and final seed. They entered the tournament with 14 and 17 record, winning their last two games to get to that point.
Head Coach Dave Loos, the 'dean of OVC coaches' is a gentleman, well respected across the country and has always run a respectable program, but they have struggled a bit in recent years. The holder of over 400 wins, Loos has seen just about everything in college basketball. What no one has ever seen is an eighth seed winning the Music City Madness title.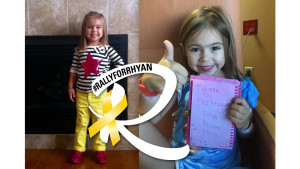 As we have documented often on Valley Hoops Insider, the Loos family has been waging a battle off the court. Dave's five-year-old granddaughter, Rhyan was , diagnosed with a stage 4 neuroblastoma and has been enduring rounds of chemotherapy. There have been numerous events and fundraisers across the country and particularly in the basketball community.
Wednesday, the first day of the OVC tournament, Rhyan underwent what has been termed by the 'RallyforRhyan' Facebook page as, successful cancerous tumor removal surgery. Rhyan is the daughter of Missouri Assistant Coach Brad Loos and his wife Jen.
So Wednesday was a celebration day for the Loos family.
Then came the opening round of the OVC Tournament. Austin Peay played perhaps their best game of the season with a convincing 92-72 win over Tennessee Tech as all-conference center Chris Horton racked up 37 points and 21 rebounds. That made for a nice story and a nice bow wrapped around the present from earlier in the day.
But there was more.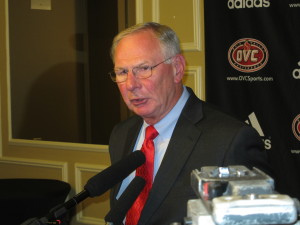 Thursday came and the Governors had to take on fourth seeded Tennessee State. The Tigers are the best story in the OVC this season with a dramatic turn around. Head Coach Dana Ford was named OVC Coach of the Year for guiding the Tigers to 20 wins, which are 15 more than last season!
So it made sense when APSU trailed by 19 points in the second half, but the Govs came roaring back to score an improbable 74 to 72 victory over Ford's Tigers. Sophomore guard Josh Robinson led the way with 17 points and Horton recorded a double-double (15 points, 12 rebounds). It was clear that Austin Peay was on a mission. However, the next night they would have to take on OVC power and top seeded Belmont and their equally gentlemanly head coach Rick Byrd. Surely, the story would end in Belmont's home town.
But there was more.
It took overtime, but the Governors were victorious again. 97-96 was the final as Horton continued his assault on the Municipal Auditorium rims with 30 more points and 16 rebounds. Robinson added 25 and freshman Jared Savage, who had never scored more than 14 points, and had recently become a starter chipped in with 21 points as he and Robinson played all 45 minutes in the Austin Peay backcourt.
The emotional, heart stopping win catapulted APSU into the championship game and Loos into a postgame conversation with ESPN. There is a link to that emotional conversation with our friend Mark Adams at the bottom of this story.
Junior John Murry who didn't play a game in February made, what amounted to the game winning free throws for the second straight game.
But there was more.
UT Martin awaited in the championship game. The Skyhawks were the hottest team in the OVC.  With their semifinal win, they had won nine of their last ten games and were gunning for their first-ever OVC conference tournament title.
Horton went down with a bad ankle in the first half, so APSU bombed away from outside. Did I mention that Saturday, was Dave Loos' 69th birthday? No really. It was his birthday.
Savage made eight three-pointers and scored a career high 24 points and Robinson added 20 and the Governors cut down the nets after an 83 to 73 win over the Skyhawks. What the APSU website was calling 'The Miracle on 4th Avenue' was complete. Cue the tears, cue the confetti and cue the credits. Oh wait. It's not a movie. It's college basketball and a story we can all enjoy, as good people worked for and earned something very special  and in some way a little piece of healing for a family that still has many miles left on their journey.
There is a 'gofundme' account set up for the Loos family. Mizzou had a 'RallyforRhyan' day and many basketball programs have lent a hand. My alma mater (University of Central Missouri) conducted a 5K run. One of our local high schools (Vianney High School) turned their 'Paint it Pink' game for breast cancer into a pediatric cancer emphasis and did some rallying for Rhyan too. The basketball community has stepped up! For more information, head to the Rally For Rhyan Facebook page.
To watch that video of Dave speaking about Rhyan after the Belmont game, click on the link below.
Do Good